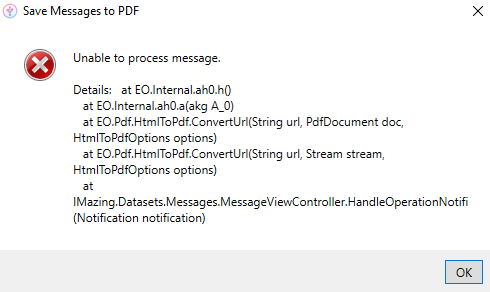 Description:
The following error message appears when exporting messages to PDF on your Windows computer:
"unable to process message."
"conversion failed. Child process not ready."
Solution:
This error message is reported by our third-party pdf conversion component. There are two possible causes for eo.pdf errors:
Corrupted attachment
Security software on your computer (3rd party Firewall or Antivirus) blocking the PDF component's initialisation.
Corrupted attachment
You'll need to identify the corrupt attachment by exporting a smaller portion of the thread. By not selecting the problematic attachment, you'll get rid of the error message.

Security Software
Some 3rd party security software can be over protective and block iMazing's attempt to launch the PDF conversion process.
Temporarily disable your antivirus or firewall software and try exporting again to find out if that's the case.
If you use Trend Micro, please configure in your "Trusted Program" the following file C:\Program Files\DigiDNA\iMazing\iMazing.exe as explained in the following article:
http://docs.trendmicro.com/all/smb/wfbs-s/v8.0/en-us/wfbs_8.0_olhsrv/trusted_prog_config.html