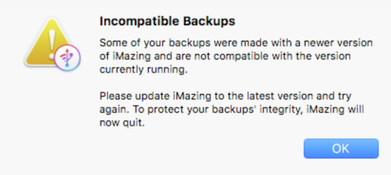 Description:
The following error message appears when you open iMazing:
"Incompatible Backups - Some of your backups were made with a new version of iMazing and are not compatible with the version currently running.
Please update iMazing to the latest version and try again. To protect your backups' integrity, iMazing will now quit."
Solution:
This error message appears because some of your iMazing backups were made with iMazing Mini or iMazing 2.3 (or later).
iMazing 2.3 introduced a new backup format which is not compatible with earlier versions of iMazing. Please make sure to run at least the 2.3 version. You can always download the latest iMazing version here: download page.