What is a Backup Password?
Both iMazing and iTunes give you the option to encrypt your device's local backups. In order to access data in a backup, or to restore a backup to another device, you may be prompted to enter your backup password.
This password is specific: it can be different from your device's passcode, which unlocks your device, or your Apple ID password.
The backup encryption password is set per device and is stored on the device itself. It will then be used to encrypt ALL future local backups of the device. Because of this, if you set a backup password in iTunes, and later back up with iMazing, your iMazing backup will be encrypted with the same password as your iTunes backup, and vice versa.
The following Apple support entry is specifically dedicated to backup encryption, and covers lost passwords too: https://support.apple.com/en-gb/HT205220
What to do if you forgot the password?
Without your backup password, you will still be able to backup your device, but not browse the contents of your backups or restore them. Backup encryption is a very important Apple security feature that thankfully we cannot bypass.
New solution from iOS 11 onwards
With iOS 11, Apple introduced a very simple way to reset your backup password. Quoting from the Apple support page linked above:
On your iOS device, go to Settings > General > Reset.

Tap Reset All Settings and enter your iOS passcode.

Follow the steps to reset your settings. This won't affect your user data or passwords, but it will reset settings like display brightness, Home screen layout, and wallpaper. It also removes your encrypted backup password.

Connect your device to iTunes again and create a new encrypted backup.
You won't be able to use previous encrypted backups, but you can back up your current data using iTunes and setting a new backup password.
If your device is not running iOS 11, the first thing to do is to update it. If you cannot or do not want to update to iOS 11, or if you have access to the backup only and not the device, keep reading.
Mac: don't confuse iMazing's Backup Password dialog and macOS' Keychain access dialog
If you see the below dialog, it means iMazing is trying to access your backup password stored in your macOS Keychain. You must enter your macOS user password and NOT your iOS backup password.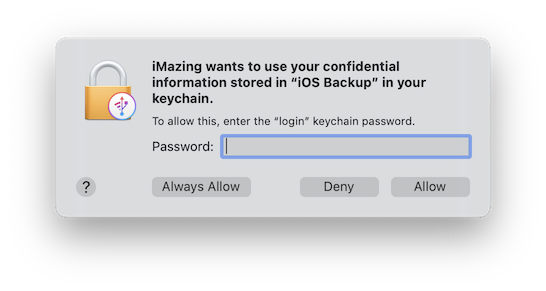 If you see the below dialog, it mean iMazing is asking for your iOS backup password because it cannot be found in your macOS Keychain.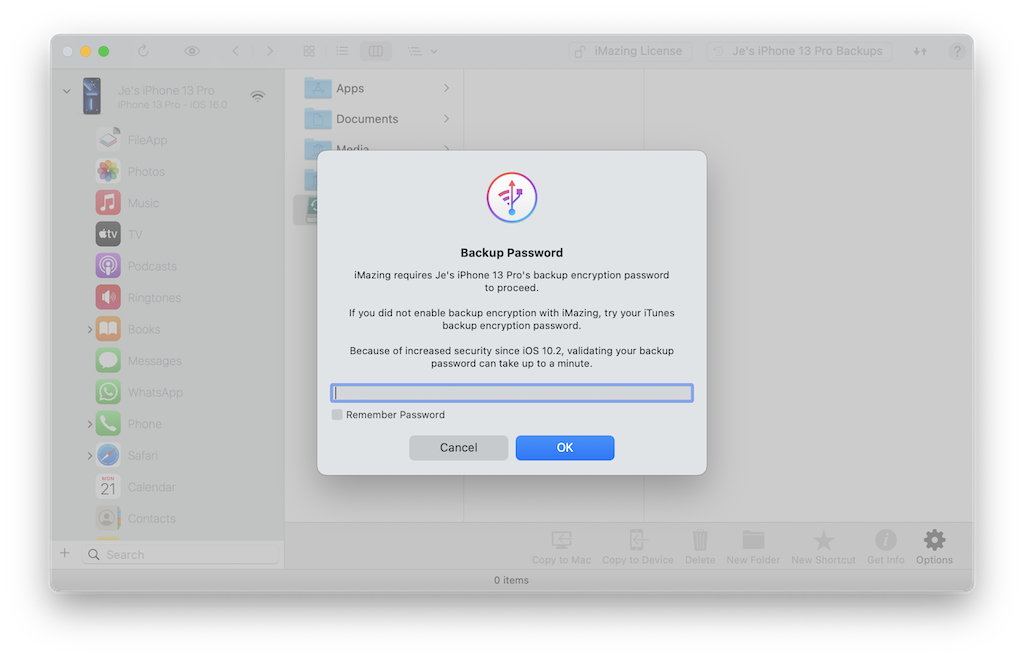 Mac: check your "Keychain"
Both iTunes and iMazing save your backup passwords in the keychain if you check the 'remember password' box when prompted.
Launch the Keychain Access app.
Select the Password category in the right sidebar.
If you have many keychain items, enter 'backup' in the search field to narrow down your search.
Select items named iOS Backup or iPhone Backup. To identify which device an item relates to, look at the Account field: it is the device's UDID, which you can easily retrieve with iMazing.
Once you've identified the keychain item with your device's UDID, double click it and select Show Password.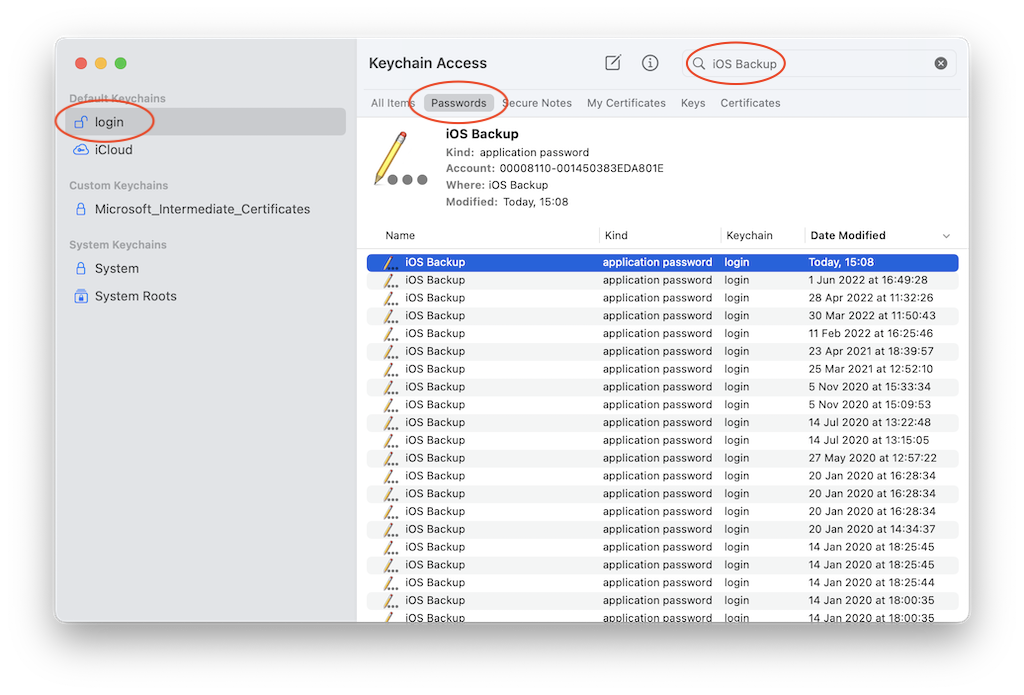 Windows: check "Windows Credentials"
iMazing saves your backup passwords in Windows Credentials if you check the 'remember password' box when prompted.
Got to Control Panel > User Accounts > Credential Manager
Select Windows Credentials
Under Generic Credentials, search for an entry named iMazing/<Your Device ID>
Click Show to reveal the password
If the button Show is not shown (it might happen for some Windows user accounts), you can download Credential File View from NirSoft to decrypt and display the password: https://www.nirsoft.net/utils/credentials_file_view.html
Try known passwords
Common passwords include:

Apple ID password

iPhone or iPad Passcode

Main e-mail password

Your computer user account's password

Simple passwords such as 0000 or 1234
Keep in mind that you might have set this password a LONG time ago, so don't hesitate to try your older passwords.
As passwords are per device, if you bought your device second hand, or were given the device, it may be that it wasn't properly reset by the previous owner. In that case, maybe the password wasn't actually set by you. If your device is a corporate device, a default backup password may also have been set - ask IT.
Before iOS 11, reset the password by erasing the device
There is only one known workaround to reset the backup password but keep your data:
Make sure iCloud Backup is enabled on your device (Settings app->iCloud->iCloud Backup->On)

Make sure the iCloud Backup completes. Leaving your device charging a whole night whilst connected to a strong Wi-Fi network is a good idea. You can check the backup's status on your device and on iCloud.com.

Erase the device fully (Settings app->General->Reset->Erase all Content and Settings).

Restore the iCloud backup. The setup assistant will offer to do so when you set up your erased device.