Connection issues fall into two categories: USB connection issues and Wi-Fi Connection issues. It's always best to first make sure that your device can connect to iMazing via USB.
Wi-Fi and USB connection issues can have many origins: they are by nature complex processes that are sometimes hard to troubleshoot. Often, the problem will also affect connection with iTunes.
Before proceeding any further, always make sure that iTunes is up to date, especially if your device's iOS version is recent.
USB Connection Issues
Please see the following articles for USB Connection Issues:
Wi-Fi Connection Issues
1. Make sure both your device and your computer are connected to the same Wi-Fi network.
2. Switch your device's Wi-Fi off, then back on.
3. In the Device Options, disable Wi-Fi Connection then enable it again.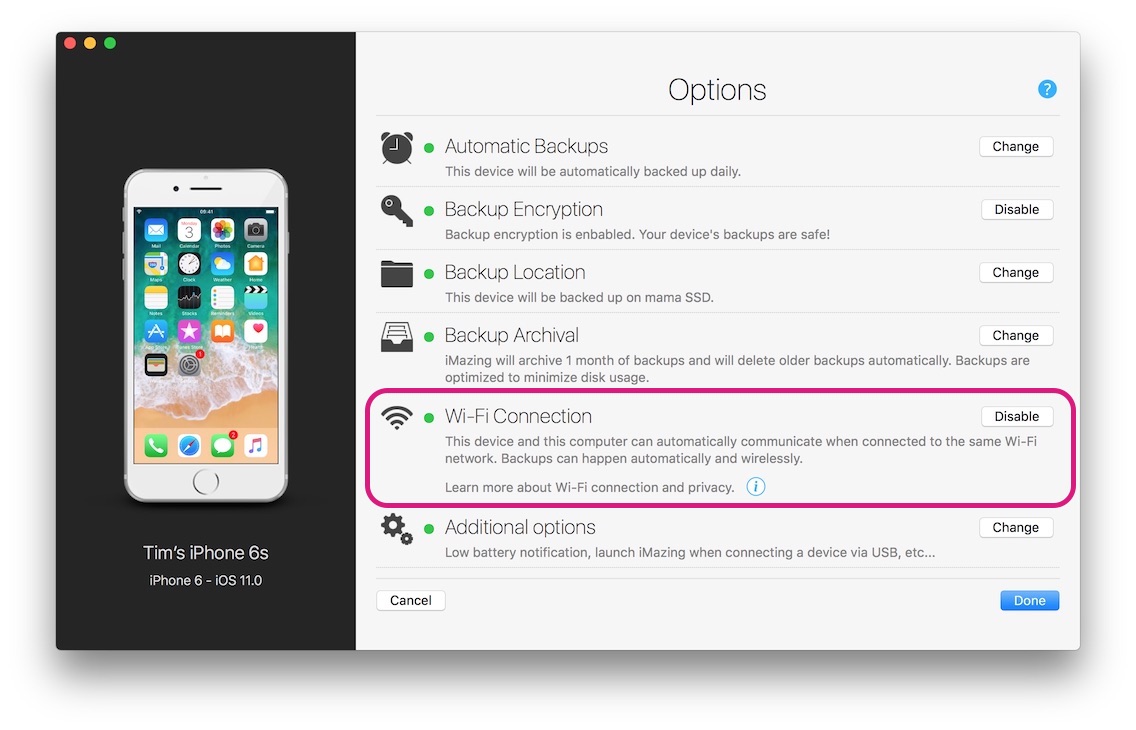 4. Restart both your device and your computer and relaunch iMazing.
5. Connect your device to iMazing via USB and wait for the USB icon to appear next to it in iMazing's left sidebar. Now disconnect the USB cable: the USB icon in iMazing should switch to a Wi-Fi icon.
If your device still does not connect to iMazing via Wi-Fi, your firewall may be interfering: in your firewall settings, please check that TCP ports 123 and 3689, and UDP ports 123 and 5353 are open. If you are unsure how to do this, please contact your computer or router manufacturer or check the instructions for your firewall or security software. Security software which can interfere include antivirus suites or traffic monitoring tools such as Little Snitch, for example.